ATTA YOGA – Yoga Therapy and Self-Healing Meditation was founded by Master Luu Nga – a Master of Science in Yoga Therapy at India's leading yoga university, Svyasa.
ATTA simply means "self" in Pali, the language of the Buddhist scriptures. In Vietnamese, ATTA represents inner peace.
Despite overcoming numerous challenges since its establishment on April 10, 2011, ATTA maintains a strong belief that, as long as everyone works together to create an environment for improving health and practicing a peaceful lifestyle within the community, ATTA will experience the joy and happiness of a strong, healthy community.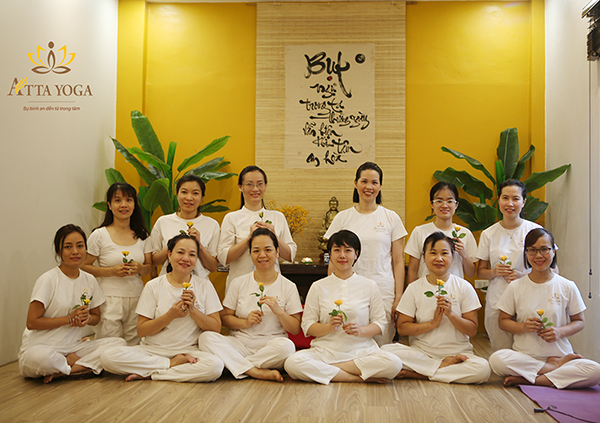 CORE VALUES
THERAPY – COMPASSIONATE – INSPIRING
BEAUTIFUL LIFE – SINCERITY – GRATITUDE
VISION
To become the leading training and therapeutic environment in Vietnam.
To establish a vocational training center for young Vietnamese people who love yoga and aspire to become knowledgeable teachers.
To create a yoga method from Vietnamese people and for Vietnamese people.
MISSION
A message from Luu Nga, the founder of ATTA:
Someone once said, "The most well-kept secret to happiness is to serve others."
Through the "compassion, wisdom, and tolerance" approach taught at ATTA, we have, are, and will continue to bring happiness and inner peace to you. We are proud to say, "We are very happy," and we always hope you will be too.
TEACHING METHOD
The Yoga Therapy and Meditation teaching method is suitable for the physical body and culture of the Vietnamese people.
Specialized therapy classes enhance health and prevent illness:
Yoga for the elderly
Yoga for office workers
Yoga for pregnant women
Yoga for children with spinal deformities +Yoga for cancer patients (Free)
Meditation classes for everyone (Free)
TEACHER TEAM MOTTO
Always listen and continuously learn.
Always disciplined and continuously practice.
Always share and continuously love.